Builders and Contractors throughout Victoria choose and return to Merhi Group for their Commercial/Industrial demolitions
Merhi group deliver professional industrial and commercial demolition services for any size or scope of project.
At Merhi Group, we have the experience, expertise and machinery to develop specific solutions for your project.
We have a team of highly experienced operators and modern equipment and vehicles to deliver safe and effective results-on time and within budget.
We engage with our client's throughout the project to plan and meet specifications.
Reliable Industrial & Commercial Demolition Services in Melbourne
Merhi Group is a renowned company, known for reliable industrial and commercial demolition services in Melbourne. We offer high quality demolition services, and ensure to complete every project we undertake, as efficiently as possible.
We focus on ensuring safety at the work sites, and abide by our work ethics at all times.
As a Commercial Demolition professional in the Northern Suburbs of Melbourne, we have catered for a range of Industrial clients and have offered high quality demolition services. Our team has the experience, expertise and equipment to provide tailored solutions to suit your needs.
If you have a commercial property that you are wanting to renovate, we will be happy to help you get rid of the old structures by providing efficient industrial demolition services. Our safe and reliable commercial demolition services throughout northern and western suburbs of Melbourne.
Be it a large-scale or a small-scale commercial demolition project, we are equipped to undertake projects of all sizes. Merhi Group is backed by an expert team and a modern fleet of vehicles and machinery. We know that every demolition project requires a substantial amount of planning, hence, before commencing any job we take a step-by-step approach and prepare a proper plan of action. Once it is prepared, we would know exactly how to carry out the demolition process.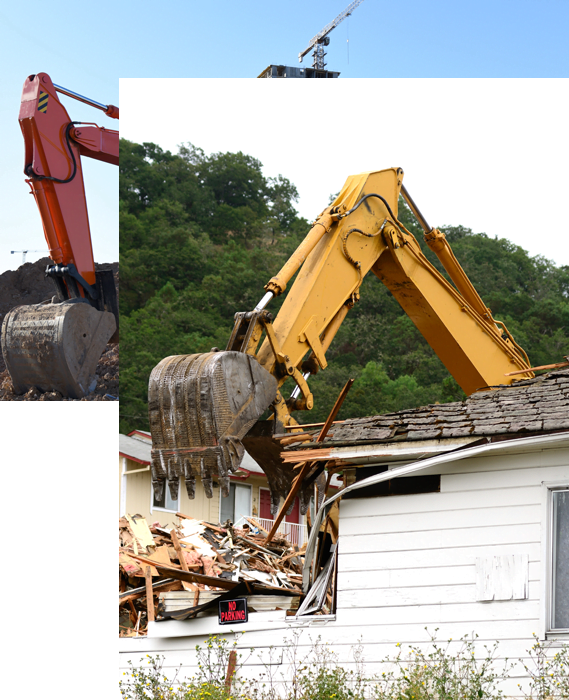 Why choose Merhi Group for commercial demolition services
As one of the best demolition companies in the Northern and western suburbs of Melbourne, we can take over your demolition project from start to finish.
Our industrial demolition services are aimed at ensuring that your demolition project is completed in a timely manner. We have set processes to make it certain, and provide you with detailed information to help you stay in the know before initiating the demolition of the structures.
Unmatched expertise in demolition services
We have years of experience in the industry, with unmatched expertise and and comply with the government guidelines to carry out the demolition process in the right manner. The guidelines we comply with include Victorian Regulations & Standards, Australian Standard AS2601-2001: The demolition of structures, Building Act 1993, Building Regulations 2006 Occupational Health and Safety Act 2004, and OHS Regulations 2017.
Licensed Commercial Demolition Services
Our team is fully licensed and insured and carries out commercial demolition in all Melbourne suburbs, including the northern and eastern suburbs whilst taking all the safety measures and following environmental guidelines.
If you own a commercial property that is needed to be demolished, you can count on us as we have set processes for dismantling and industrial demolition to ensure all your needs are looked after well.Our demolition service team in Melbourne follows the best practices and procedures that include:
We are a Victorian Building Authority Registered Demolisher (Low Rise Buildings). VBA Registered Builder CBD-L 57826
We have Public Liability Insurance ensuring full protection to your property during demolition work.
We are registered with the Environment Protection Authority to transport prescribed waste and materials to EPA approved waste sites
Merhi Group are committed to minimising our environmental footprint through recycling and salvaging materials that would become landfill
If you're ready to make way for a new warehouse/commercial property in the eastern, western, or northern suburbs of Melbourne and are looking for demolition experts, feel free to contact our team today.
Holistic industrial and commercial demolition services
Our team offers holistic industrial and commercial demolition services, asbestos removal, land clearing, tree removal, and concrete removal in Melbourne's northern and western suburbs. Right from the inception to completion, we take charge of the project and ensure that it is completed in a timely manner.