Our house demolition includes:
Abolishment of services, sewer capping and temporary fencing (at an extra cost)
House Demolition in Melbourne
If you are looking to rebuild your dream home, it's about time you get in touch with us and schedule a residential demolition. We offer a wealth of knowledge and experience in catering for demolition of a range of properties. Our team is equipped with the necessary skills and resources to carry out the demolition process safely, whilst adhering to the workplace safety regulations as per the Australian standards.
We exhibit high quality workmanship, and take pride in carrying out every residential demolition project in Melbourne with utmost care, precision, and attention to detail. Be it the initiation, and preparation of the demolition process, carrying it out with safety, or removal of the products like asbestos, we take care of everything from start to finish.
Our Approach At Merhi Group for House Demolition
Whenever we take over a project, we embrace the fact that it is not just a mere site but a space that you've called your own. Hence, we do everything to ensure that the job is completed with utmost diligence. We demolish your existing structure to make space for a new build that you would've planned.As a Melbourne-based residential demolition contractor, we are aware of the high standards of service that Melbournians deserve, and ensure to always exceed their expectations in terms of customer satisfaction.
If you've been looking for a reliable residential demolition company in the Northern suburbs of Melbourne, you are in the right place. Merhi Group is a residential demolition company in Melbourne that offers excellent service at competitive prices.
We service Melbourne-wide and work alongside construction companies, developers, and residential homeowners to cater for an upcoming demolition project. For us, no job is too big or too small.Our team lays major emphasis on ensuring that all boxes are ticked whilst carrying out a residential demolition project in Northern suburbs, which includes but is not limited to: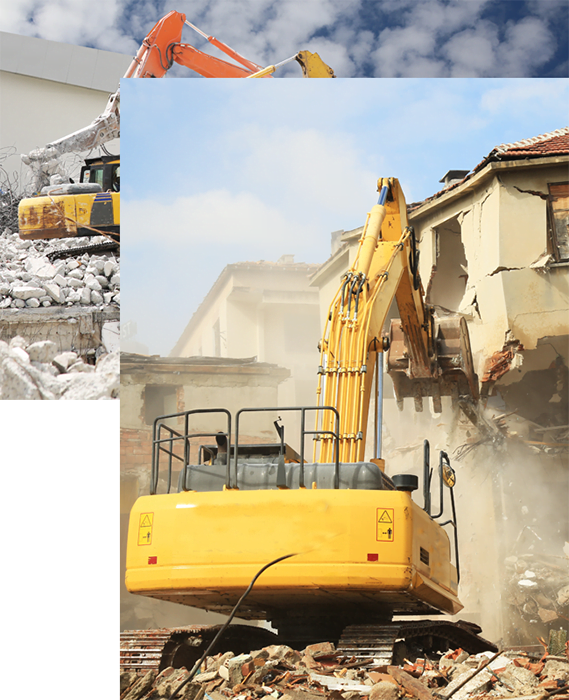 Reasons why we recommend demolition of an older house/building
To get rid of dangerous materials by demolishing an old residential property
Older buildings develop mould over time, and may contain asbestos which is certainly dangerous to continue living with. Therefore, the building may need to go through a residential demolition, be it in Melbourne or surrounds.
Abiding by the change in council regulations
Older buildings may not continue to comply with the changed council regulations. When this happens, homeowners would require to renovate which would certainly be expensive. Hence, we recommend house demolition to make room for a new one that complies with the current regulations.
To strengthen the foundation of the built following a house demolition
Older residential structures wear out over time, and may have a weaker foundation. As a result, the building will not continue to be suitable for quality living. Therefore, it will need to be demolished to make space for a new residential structure.
Increase the chances of selling the property by carrying out residential demolition in Melbourne
An old home may not sell for a good price, considering that it may require a lot of maintenance and resources. If you're looking to sell your property in eastern suburbs of Melbourne, it is rather recommended that you organise a house demolition in Melbourne so you can get a good ROI.